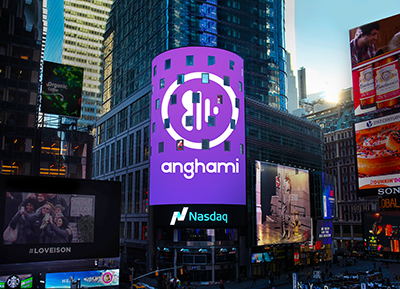 After leading a funding round for Anghami last year and arranging USD 30 million investment via PIPE funding, SHUAA paved the way for Anghami to successfully begin trading on NASDAQ New York under the ticker symbol "ANGH" on February 04, 2022, at 9:30 a.m. ET.
Since the beginning of 2021, SHUAA has been working closely with the Anghami team as an advisor and investor to further develop and secure the PIPE investment and deliver a successful listing on NASDAQ. This included introducing Franklin Templeton, a leading global investment company, as a pre-IPO investor through investment in the PIPE ahead of the listing.
Commenting on this, Fawad Tariq Khan, MD and Head of Investment Banking at SHUAA Capital, said: "I would like to extend my congratulations to Eddy, Elie and the entire Anghami team for their successful listing on NASDAQ. We are strong supporters of their business and have enjoyed working closely with them as they worked towards achieving the next stage in their development. SHUAA's experience and investment capabilities has enabled us to support Anghami's growth, reflecting our unique strength in structuring financing solutions that meet both business objectives and investor demands. The combination with a SPAC that eventually led to the NASDAQ listing has given a regional champion a global platform and is helping to shine a spotlight on the region, our talent and home-grown success stories."
Both Eddy Maroun and Elie Habib, co-founders of Anghami, highlighted SHUAA's support, saying: "As we embark on a new chapter as public company, we are grateful for the tremendous support we have received and continue to receive from our investors SHUAA, VMAC and Franklin Templeton for believing in our vision and helping us reach this milestone. With the support of our investors, our partners and artists, and our listeners, we have a huge growth potential, and we are confident in our ability to continue to innovate and expand for our users globally."
Founded in 2012, Anghami is the first music streaming platform in the Middle East and North Africa (MENA). The platform offers more than 75 million songs – international and Arabic – to more than 75 million registered users, with around 9 billion streams per year.